Bass Invasion!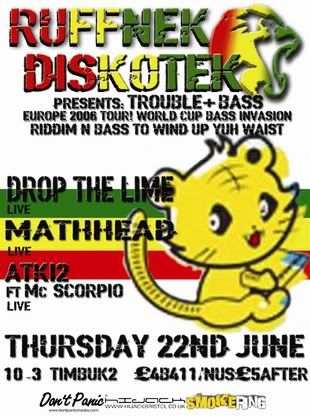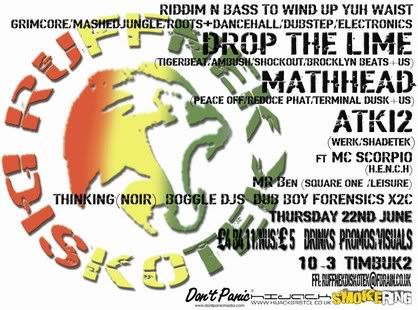 RUFFNEK DISKOTEK
Presents.... The Trouble & Bass European Tour 2006;
WORLD CUP BASS INVASION!
Grimecore / Mashed Jungle / Roots & Dancehall / Dubstep / Electronics
DROP THE LIME LIVE!!
(Tigerbeat6 / Shouckout / Ambush - USA)
After headlining the final Toxic Dancehall (RIP), Drop The Lime returns to Bristol with his incredible live show ! In recent months he has championed dubstep & grime in the USA with his 'Bangers & Mash' parties. Now he brings his explosive combination of dark grime, punk, breakcore & growling techno bass all polished off with his rather unique singing style to the murky confines of Timbuk2. 'New York Cities obvious new badboy Sinatra'. Brrrrap!
MATHHEAD LIVE!!
(Terminal Dusk / Reduced Phat / Peace Off - USA)
The partner in crime on the Trouble & Bass tour, Mathhead is a fast rising mashedupraggabloodclartbassweilding producer. Also played at the last Toxic Dancehall and once again he'll be fookin' wicked!
Atki2 LIVE!! With MC SCORPIO
(Werk / Shadetek) (H.E.N.C.H.)
Bristol's premier purveyour of 'Grim' (ie mashed grime & electronics) returns to the Diskotek for an exclusive set with the HENCH crew's first lady, MC Scorpio!
MR BENN (Leisure / Square One)
THINKING (Noir)
BOGGLE DJ's
DUB BOY
FORENSICS
X2C
THURSDAY JUNE 22nd @ Timbuk2, Small St, Bristol
10pm - 3am£4 b4 11/NUS. £5 after.
Visuals by Crouton
Drinks promos and CD giveaways!
Ffi:
ruffnekdiskotek@fbrain.co.uk
Wicked interview with Drop The Lime & exclusive Gutterbreakz mix HERE! :
http://gutterbreakz.blogspot.com/2005/12/drop-lime-interview-and-mix.html
www.dropthelime.com
www.tigerbeat6.com
www.myspace.com/dropthelime
www.myspace.com/mathhead
http://atki2.blogspot.com
www.myspace.com/atki2
www.myspace.com/djmrbenn
http://forensicdubstep.blogspot.com