Atki2 live dates
You catch my live set at any one of the following dates:
Get Raised at The Black Swan, BRISTOL, Saturday 3rd February 2007
Sureskank Convention at The Jazz Place, BRIGHTON, Thursday 8th February 2007
C90 at Dn 'R Bar, SHEFFIELD, Friday 16th February 2007
Rodigan and Ruffnek Diskotek at The Black Swan, BRISTOL, Saturday 24th February 2007
Scroll down for more info on each party....
--------
TONIGHT
GET RAISED : FUNDRAISER
3rd FEBRUARY 2007
The Black Swan, Stapleton Road, Bristol
MAIN ROOM
FRICTION (hardware)
LOEFAH B2B DIGITAL MYSTIKZ (dmz / ital)
THE BUG (rephlex)
DISTANCE (hot flush / planet mu)
SLAUGHTER MOB (halo beats / stamp & go)
HEADHUNTER B2B WHITEBOI (tempa / h.e.n.c.h)
DARKSTAR
DUB BOY B2B HENRY HEATWAVE (ruffnek diskotek / heatwave)
MC'S - Sgt Pokes, Vicious & Dangerous (slt mob)
DNB
KYMATIK (inperspective / technicality)
DAZEE B2B LAYDEE BIRD & MC Sarah B (run / dutty girl)
SCOOBZ
INTRIGUE DJS(intrigue)
FIASCO (therapy sessions)
PENGUIN DANCE CONSEPT
MC'S - Cara§el, Alpha
BREAKCORE / ELECTRONICA / MASH UP
PUNKSI (bashout / clean cut)
SHOUTPUT, SPAGHETTI MACHETE & MICHAEL J ROCKS (plummet)
IRONSIDE (prank)
SLUTCRUSHER (monkey!knife!fight!)
JAY NOM( death$ucker)
HIP HOP/ /ANYTHING GOES powered by ROOTS RADICAL
ATKI2 (shadetek / werk)
MAT CLU (cuisine)
DJ ROGUE
PIPPIN DRILL (byte)
BEAVIS (roots radical / heatwave)
FIREMAN SAM (only built 4.....)
BAZOOKA JOE(stfu and rave)
10pm - 5am
£5 b4 11, £6 after
ALL MONEY RAISED DONATED TO KEITON KNIGHT:
Keiton, aged 7, was first diagnosed with Acute Lymphoblastic Leukaemia but in the last month of treatment the disease turned into Acute Myeloidblastic Leukaemia and now he must have a Bone marrow Transplant. ime is running out for Keiton and the only way to save his life is to go give blood directly to one of the clinics.We are looking for mixed race individuals to become a Bone Marrow donor for Keiton, as his tissue type is very unusual.The potential donor must, like Keiton, have one black and one white parent and be aged between 18 and 40.If this sounds like you, and you would like to help Keiton, Call the National Blood Service to find your nearest clinic: 0845 7711711
--------
The Sureskank Convention Presents:
Thursday 8th February 2007
@ The Jazz Place, 10 Ship Street, Brighton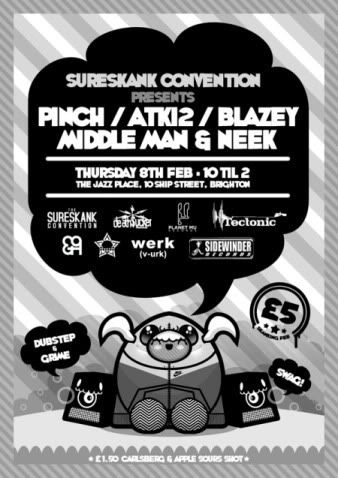 Bristol Bassweight Superstars!
Pinch
Atki2
Blazey
Middleman and Neek
£5 entry
--------
C90
16th February 2007 Dn'R Bar, 25-29 Arundel Gate, Sheffield S1 2PN (opposite TJ Hughes, near The Roxy)
Presenting a Dubstep showcase
DJ PINCH (Planet Mu, Tectonic)
Exclusive! Bristol's foremost dubstep pioneer, regular show-stealer at the infamous DMZ and FWD>> dances and one of the most inovative producers in the scene hands-down. Pinch heads to C90 for his first ever dance in Sheffield. Expect deep vibes, bare exclusive dubs and bass weight pressure from the Planet Mu artist and head of Tectonic Records.
ATKI2 (Werk, Death$ucker, Shadetek)
Atki2 returns for his first solo performance at c90. Having visited us for a devastating live set as one half of Monkeysteak we had to get him back. With a slew of recent and forthcoming releases on a host of essential labels, expect grimey beats, subsonic bass detonation and dark garage flavoured riddims.
C90 DJs - discharging other duties.
9pm til 1am
£5 on the door (R.O.A.R.)
www.c90.org
info@c90.com
www.myspace.com/c90_sheffield
--------
RODIGAN and RUFFNEK DISKOTEK
Sat 24th February 2007 @ Black Swan,
Main Room - MEL's BIRTHDAY BASH:
DAVID RODIGAN [Kiss FM/ Riddim Clash Champion 2006]
SOLJIE & SCRAPULOUS [Qualitex]
CANNIBUS [Doctor D]
BIG D [Unique Star]
HEATWAVE [Gabriel, Gervase, Henry/Punchline & MC Rubi D]
Visuals provided by the Sex Pixels
Side Room - SOCA, Carnival vibes with:
Lady V [Passion FM] & Mad House [Qualitex]
Upstairs - RUFFNEK DISKOTEK, Dubstep/ Jungle/ Grime:
MORE ROCKERS [Smith & Mighty /Bristol legends!!]
M.R.K.1 [Planet Mu/ Rephlex/ Tectonic]
PINCH [Planet Mu / Tectonic]
BLAZEY [Subloaded/ Sidewiner]
IRONSIDE [P.R.A.N.K/ Dissident]
FORENSICS [Digital Sin/ Ruffnek Diskotek]
Room 4 - BOGGLE, Electronica/ Booty/ Bass:
Atki2 [Werk/ Shadetek]
Jeneral Disarray [Terra/ Leeds]
star delta & Brother Wetlands
Beavis & Dub Boy
Bristol £6 adv/ £7 b4 11 /£8 after
Tickets will be available from the usual outlets soon
www.rodigan.com
www.dubstudio.co.uk/rodigan
www.myspace.com/ruffnefdiskotek