January Round Up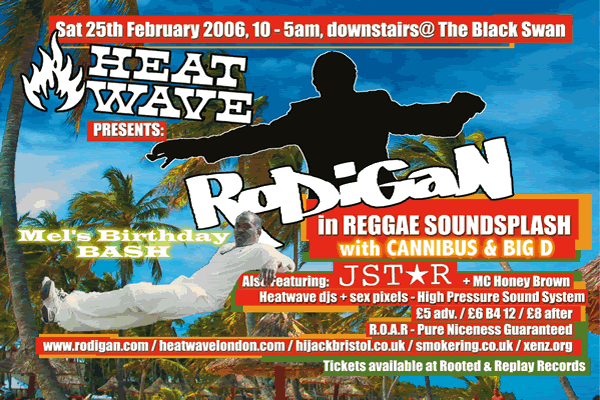 Been a bit quiet on the gigs front since Christmas, but that's only because we're saving ourselves for this big one:
THE REGGAE SOUNDSPLASH!
Saturday 25th February 2006. The Black Swan, Stapleton Rd, Bristol. 10pm - 5am.
DAVID RODIGAN Kiss Fm
With Cannibus & Big D repping Bristol
Plus...J STAR ft. MC Honey Brown
HEATWAVE DJ'S (Punchline / Scandalbag)
DUB BOY (Ruffnek Diskotek)
Powered by The High Pressure Soundsystem
Plus The Sex Pixels on the visuals!
And then upstairs….
KEEPING IT RUFFNEK!
HEADPHOBE & DEFAZED (1 Man Army)
MONKEY STEAK (Werk / Shadetek)
DJ PINCH (Planet Mu / Subloaded / Tectonic)
BLAZEY (Black Ops / Subloaded)
IRONSIDE (P.R.A.N.K.)
BROTHER WETLANDS b2b star delta 3 deck special!! (Ruffnek Diskotek)
Powered by Roots Radical Soundsystem
£5 adv (+bf) from Rooted & Replay, £6 b4 12, £8 after
www.rodigan.com
www.dubstudio.co.uk
www.heatwavelondon.co.uk
Absolutely compulsory! Check out all the news and gossip as it happens
here
.
More Monkey Steak news: Slit Jockey's "Stateside Grime" Mixtape vol. 1 hit the shops this month. Mixed by Dev79, loads of exclusive tuneage on this one to sink your teeth into, not least of all a new Steak cut called "Dirty Madge". Armin's got a
few in stock
at his online dSWAT shop if you fancy checking it out – only a fiver to boot, which for exclusive tracks by DTL, Vex'd etc plus fresh rhymes by Kano, Riko et al is an absolute steal if you ask me.
___
Well, for better or for worse, the
Sweaty Palms Ep
was unleashed onto the world this month. Here's what folk have had to say about it…
"Sam Atkins was last called Atki2 on
The Dudes EP
on Shadetek, which contained slaybass stomper Pout & Purchase, and he's on no less fearsome form here. 'Shocking Out Proud (Sweaty Palms Mix)' is a frightmareish mirror-hall of liquid-sword synth, icy beats, sudden ruptures of buzz-bass and a lyric so hilariously party-down it's like Doug E Fresh playing at a deserted Antarctic weather station. S'a fucking strange tune, just a totally anti-linear hostile soundscape alive with engrossing detail, details that have you squinting one just as the track's ready to thunk the back of your neck with a fresh piece of bedlam. By the end of the 'Sweaty Dub' instrumental you're running in sheer terror. I haven't heard anything so aggressively abandoned yet terrifying in its restraint all year. Superb stuff …5/5"
- DJ
"This one's so filthy, we recommend you scrub the turntable with some bleach and a stiff-bristled yard broom after play. Shadetek precede their
Heavy Meckle
compilation with some punishing wreckstep, the snares ping-ponging through all manner of sampler machination, as lyricist Renee Silver spits tower block rhymes over the whole brutal mess. 3/5"
– IDJ
"Brand new 12" on Shadetek by Atki2 & Renee Silver. On the grime tip with a hip hop feel. Possibly like dDamage without the harshness. Think of more leftfield disturbed grime (like grime which has just had some bad news) and you'll be some way to understanding what on earth I'm on about. Quite fun really...."
- Norman Records
"…officially bonkers."
- Tom @ Rooted Records.
Drop the Lime's killer remix on the flip has seen plenty of Radio1 love this month, dropped by Rob Da Bank on
19th January
and Mary Anne Hobbs on
24th January 2006
.
Plenty of plotting and programming behind the scenes … more info about the new Atki2 Ep Guilty Pleasures and the upcoming Werk Discs compilation Grim FM to follow shortly …
This month, it's Skream's "Deep Concentration" that is the tune I can't wait to have on vinyl. Big up that man! Then some top mixes which have been cemented to my CD player: Dub Boy January Dancehall mix (
more info here
), Kode9 & Spaceape - Dubstep Allstars 3 (
Tempa
), DJ /rupture @ c90 05/11/2005 (cheers to Joe
c90
for that one!), El Kano "Wragga Noclik Mix" (
Adverse Camber
) and finally Boxcutter's set on the
Breezeblock
last night. Been listening back online while typing out all this shit and I fookin loves it!
Lastly, shout outs to Gutterbreakz who ran
this little feature
this month. Not sure if I find this piece flattering or in fact slightly invasive … my mother, who at the time believed I'd given up smoking was quite appalled to see the rather large Guinness branded ashtray plonked on the side of my desk and gave me a good knuckle rapping. Didn't give a damn about the publicity. He heh. Check n chuckle.